OUR DEVOTION TO YOUR SUCCESS NEVER WAVERS
---
Boost your Performance through Process
OPTIMIZATION
OPTIMIZATION
We fuel operational excellence by enhancing and adjusting your processes to operate at their peak efficiency and reveal a direct impact on the productivity of employees who rely on those processes. You will allow your business to operate within the requested parameters that do not violate any constraints while ensuring minimization of costs and maximum efficiency. It is considered the quantitative tool needed for industrial decision-making.
Eliminate bottlenecks through
AUTOMATION
AUTOMATION
We manage to scale your output without the urge to hire more people, giving you the chance to compete with larger businesses and be ahead of the competition by digitizing your workflows. You will be able to avoid human errors while saving time in execution and partner with us to build a culture that embraces automation.
Avoid frustrating setbacks and backup with
ODOO BUSINESS INSURANCE
ODOO BUSINESS INSURANCE
We secure your investments by providing a resource team who understands the platform with no time due to their in-depth knowledge and benefit from their long years of experience. You will have a dedicated team capable of customizing your workflows, implementing your Odoo apps, and providing instant support without interrupting your company functions to ensure its' security, stabilization, and complete guidance.
ODOO SILVER PARTNER
---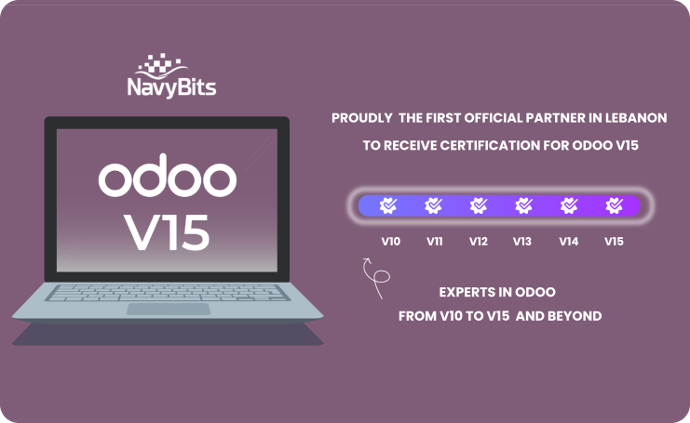 Our partnership with ODOO started with the release of their 10th version, which over time offered us plenty of opportunities to acquire invaluable knowledge until we became complete experts in it.

As Odoo Silver Partners and V15 Certified, we believe that this achievement reflects the dedication and commitment of NavyBits to being the pioneers in business optimization and automation company in the region, a position we've pursued from day one.
Odoo ERP has served us well through its all-in-one business management software that caters to businesses of all sizes within any industry, with a whopping 40+ apps designed specifically for each type of purpose.
The advantage we found in this platform lies in its ability to create automated and triggered processes through seamless integration across all areas: Accounting, CRM, Inventory, Manufacturing, or Project Management which leads to generating reports both in terms of analytical and quantitative measures that help redefine the boundaries between departments, markets, and businesses.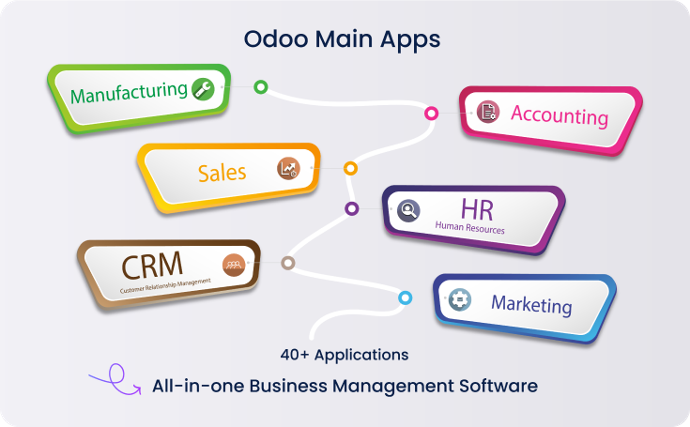 THE NAV CYCLE
---
NAVYBITS SUCCESS PACKS
---


Your Packs Are Delivered By Our Highly Skilled Team
Business Consultancy
5 Man-Hours
How would it feel if you knew exactly what steps to take next?

Imagine having the confidence to work on everything knowing that the process you are following is streamlined and cost-effective Our consultants will carefully review the way your company operates and provide strategic advice with a range of cost-effective solutions for improving efficiency.
Support
50 Man-Hours
What could happen if you had an IT support team to resolve the problems you are having with your system?

Critical, major, and minor obstructions will no longer be able to stand in your way of doing what you want. For guaranteed results, we provide support through a pre-determined SLA schedule
Training
6 Man-Hours
Did you know that there are smart ways to use the features of Odoo apps?

Simply taking the most direct route will make it so much easier. This is why we created this pack which is essential for all our Odoo businesses.
Development
6 Man-Hours
Have you ever considered getting your very own unique Odoo module made just for your company's specific needs?

At NavyBits, we understand that customization of the Odoo ERP system can be challenging and takes skilled expertise to work out a customized solution. We want you to have complete control over your data and software through Odoo Enterprise, so we decided to put together teams of experts and developers capable of creating a tailored module just for your company.
CyberShield Security
How can you be sure that your company is highly secured and protected from becoming one of the victims of cybercriminals?

We are aware that hackers are capable of accessing, altering, or deleting important information; interfering with day-to-day operations NavyBits provides total penetration testing designed to identify system vulnerabilities, validate existing security measures, and provide a detailed remediation roadmap.
Tailored Bundle
Do you need to create your own personalized or customized bundle?

We know that some businesses would benefit from designing their packages, so we made it possible for them to do just that. This pack will allow you to design a customized solution tailored just for you.
Your Dynamic Snippet will be displayed here... This message is displayed because you did not provided both a filter and a template to use.